Savings with Insured Prescription Benefits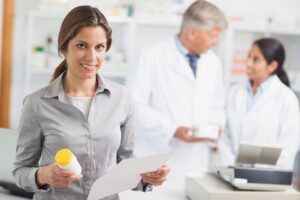 As a member of AWA, you have access to many benefit options, including insured prescription benefits. These benefits cover the most commonly prescribed generic drugs as well as preferred name drugs. Our members can get low member co-pays on the prescriptions they need to stay healthy.
In the event you need to purchase non-preferred brand name drugs or non-co-pay generics, you can save up to 70% off retail pharmacy rates. As prescription drug prices rise across the country, now is a great time to take advantage of these and other premium benefits that can help everyone, from business owners to entrepreneurs, save money on healthcare.
What is Insured Prescription Insurance?
Many people assume that their health care policy covers their prescription drugs, but this is not always the case. Individuals choose insured prescription insurance if their employer doesn't offer prescription coverage or if the coverage included in their health insurance is not sufficient.
What Are the Benefits of Insured Premium Insurance?
The main benefit is that you can save money on your prescription drugs. When you choose AWA coverage, you can choose between 30-day refills at one of the 67,000+ pharmacies that accept our plan, or you can choose a 90-day supply via mail.
The costs will vary based on which of these two options you choose as well as what type of prescription you need. Note that both options have a $150 monthly maximum per covered person.
Generic Prescription Costs
For a 30-day supply of a covered generic prescription, you will pay $15 or 50% of the retail cost, whichever amount is higher.
For a 90-day prescription from the mail-in program, you will pay $30 or 50% of the retail cost, whichever is higher.
Preferred Brand Name Prescriptions
If you choose a 30-day supply for your preferred name-brand prescription drugs, you should expect to pay 50% of the retail price or $24, whichever is higher. Likewise, a 90-day mail-in prescription would cost $48 or 50% of the retail price, whichever is greater.
How Do I Use My Insurance Prescription?
As mentioned above, we have relationships with more than 67,000 pharmacies. If you would like to use your insured prescription benefits for a 30-day supply, simply locate a pharmacy convenient to you that accepts our plan and present your card.
If you would prefer to order through a mail-order program, the process is the same – find one that accepts your plan and present them with your plan information. Deductions will be automatically made, and there are no forms for you to fill out.
The Five Main Tiers of Prescription Drugs
If you have a health insurance policy, whether or not prescription drugs are covered will depend largely on their tier classification. While it can vary somewhat between different health care plans, the following tiers are a good example of how they are generally delineated:
Tier 1 – Preferred Generic Drugs. A generic drug has identical active ingredients (and thus works identically) to its brand-name drug counterparts. Generic drugs are generally much more affordable than name brands.
Tier 2 – Non-Preferred Generic Drugs. This tier of generic drugs costs more than those in tier 1.
Tier 3 – Preferred Brand Drugs. Insurance plans generally have lists of drugs they cover, known as a formulary. Preferred brand drugs are drugs that are covered, usually because they do not have a generic version. These are more expensive than generic drugs but usually cost less than non-preferred brand drugs.
Tier 4 – Non-Preferred Brand Drugs. These drugs cost more than preferred brand drugs. Ideally, you will look for a generic drug that will cost much less.
Tier 5 – Specialty Drugs. The vast majority of drugs fall under tiers one through four. Those that don't are known as specialty drugs. They are most commonly used to treat chronic health conditions and can be very expensive. In most cases, they will have to be handled through a specialty pharmacy.
Insured Prescription Benefits Are Just One of the Way You Can Save on Your Prescription Costs
There is no doubt that prescription medications, even those that are covered by your health plan, may be expensive. Choosing insured prescription benefits from AWA is a great way to get your costs down – but it's not the only way. Following are some additional ways you can save money on your prescription costs.
Stick with Generic Drugs When Possible
Verify the list of medications that are covered by your health care plan. Ask your doctor for a similar medication that your insurance will pay if your prescriptions aren't on the list. Throughout the year, covered medicine lists (Formularies) may vary.
Make sure you're looking at the most recent drug list or speak with your insurance provider to learn if your medication is covered.
Work with a Pharmacy that Accepts Your Insurance
Prescriptions filled at pharmacies outside of your network or at pharmacies you don't prefer will cost you more. Find a nearby, in-network drugstore by consulting your insurance plan.
Consider a Cost-Effective Prescription Delivery Service
For prescription medications you regularly consume, use a prescription delivery service. Using a mail-order pharmacy for your prescriptions for long-term conditions like diabetes or high blood pressure may allow you to save money.
Talk to Your Doctor
Ask your doctor about cheaper alternatives to your current meds if you are having trouble managing the expense of your prescriptions.
Use Your Medication as Prescribed
To save money, you might cut the dosage or the duration of your medication, but doing so could endanger your health and result in higher costs in the future. Likewise, some people might use a higher dosage than they were prescribed, thus leading to costlier monthly prescriptions.
Check Out Two Significant Additional Benefits That Come with AWA SureScript RX
When you choose the AWA SureScript RX, you get access to two additional wellness benefits that can add up.
Discounts on Spa Treatments That Can Help Improve Your Health and Wellness
Get a convenient discount on Spa Week gift cards. These cards can be used for wellness and health services in nearly 10,000 locations across the country.
Utilize tools created to promote wellness to take charge of your general health and wellbeing. You may effectively manage your wellbeing for less money by using tools like foot reflexology, massage therapy, chiropractic care, and more!
Treatment options include:
Beauty
Body treatment
Chiropractic services
Facials
Fitness
Hair
Massages
Men's grooming
Nails
Prenatal care
Wellness services
Save 15% on Vitamins and Supplements
A daily regimen of vitamin supplements can positively affect your health in a number of ways. A lot of people view a vitamin and mineral supplement regimen as being crucial to their overall health plan.
The Swanson website offers search options for things like:
Blood Sugar Support
Immune Support
Dental & Oral Health
More!
For relevant advice on vitamins and supplements, food and nutrition, health and beauty, and recipes, visit the Swanson Blog. Our members save 15% off the already affordable prices offered by the Swanson brand.