Growing? How to Keep Your New Hires Happy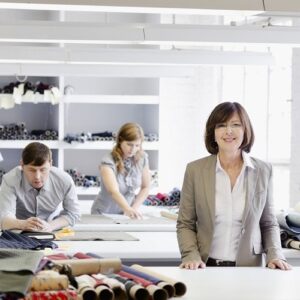 The ability to grow a company and a team is a thrilling experience for small business owners and entrepreneurs. However, the challenges of growing a small business not only include finding good employees but also keeping them. To keep your best employees, it's important to keep them happy. It seems simple, but how is it done?
Perceptions of work have changed since the pandemic. For example, many people deem well-being a top workplace priority. Happy employees who feel supported by their employer are more likely to be committed to the company.
According to Nectar HR, there are benefits to making employees happy, such as:
Better decision making
Higher employee retention
Improved customer satisfaction
More innovative ideas
Better team morale
Investing in your team produces a return that keeps your company growing. From effective onboarding processes to small business association discounts, learn the top strategies for keeping employees happy.
Prepare for New Hires
The happiness of your employees starts on Day One. How you prepare for their first day, week, month, and year on the job not only impacts their success but also their satisfaction.
Implement an Effective Onboarding Process
New employees need to learn about your small business's goals, processes, and culture during the onboarding process. It's also when they learn what your expectations are of them in their new role.
The goal of the onboarding process is to set new hires up for achievement and fulfillment. If their onboarding process lacks education on business goals and processes, discussions around expectations, or a glimpse into company culture, the employee may not understand how to integrate effectively.
A successful onboarding process includes:
Pre-boarding activities such as welcome emails and paperwork
Orientation into the workplace and its people, policies, and structure
Discussions on the goals, expectations, responsibilities, and tasks of the role
Training on all processes, skills, products, and services of the company
Introduction to the culture of your small business
Access to all company tools and software
Welcome events to fully integrate the new hires into the team and culture
Initial feedback and feelings from the new hire on the onboarding process
Communicate to New Hires with Transparency
Good communication is a cornerstone of business. When dealing with interpersonal relationships, it's important to evoke trust. One way to do this is by communicating with transparency.
By fostering a culture of transparency on the very first day, you're opening up a dialogue for the future. Ways to promote transparent communication include:
Ensuring new hires understand communication channels
Fostering an open-door policy among the leaders of your small business
Leading by example as a small business owner and entrepreneur
Being open and proactive in communicating decisions and goals
Encouraging new hires and employees to share their feelings and ideas openly
Identifying the proper space for conflict resolution and dialogue
Recognizing and rewarding open communication
The benefits of championing transparent communication include trust, longevity, motivation, and positive morale. Happy employees make happy customers, leading to increased revenue and business growth.
Build a Positive Work Culture
It has been found that the average person will spend 90,000 hours at work. This equates to one-third of a lifetime. When we think about how much of our lives are spent working, it's no wonder our happiness at work has such a big impact on our well-being outside of work.
Engage Employees and New Hires
According to Top Work Places, employee engagement is referred to as the connection employees feel to their employer. If your team feels connected to your small business, they will be loyal, motivated, and committed to its success and longevity. Some methods of improving engagement include:
Weaving your business's values into day-to-day operations
Providing your team with a clear path forward
Encouraging your employees with recognition of a job well done
Fostering connection through team-building activities
Asking your people what they need to succeed
Advocate for the Work-Life Balance of Your Team
Earlier, we mentioned that finding well-being in the workplace is a top priority among employees. Work can be challenging – but so can our lives outside of the office. From our health to our social lives, we require a multitude of facets for our own happiness. Fostering work-life balance in your business may mean:
Providing flexible work options
Encouraging time off to mitigate burnout
Reducing after-hour communication
Modeling work-life balance as a leader
Supporting your team in prioritization and task management
Recognizing your team for demonstrating work-life balance
Nurture the Professional Growth of Your Employees
Encouraging your team learn new skills, grow in their careers, and share knowledge can boost productivity and success. Without professional growth opportunities, your team – and your small business – can become stagnant. The growth you recently had may plateau without the proper strategies in place to encourage learning and development.
Provide Learning and Development Opportunities
A good place to start is by creating individualized development plans for each of your employees. Listen to new employees' goals to make them feel valued and hopeful about their future at your company. Common questions to ask your team include:
What are your career goals for the short-term and long-term?
What skills would you like to develop?
In what areas do you feel you need more support or training?
What is your preferred method or modality of learning new skills?
What certifications would you like to obtain?
Are there interests you have outside of work that could integrate with your professional development?
Understanding the skills they want to develop can help you identify what resources they need to acquire this knowledge. There are many free and low-cost options for professional development, including:
Online learning tools, such as Coursera, LinkedIn, and YouTube
Webinars
Podcasts
Industry Publications
Professional Networking Groups
Internal Training Courses
Mentoring Opportunities
As an organization that champions small businesses, AWA is a strategic partner of Small Business Majority (SBM), a national advocacy group for small business owners. We work together to give small business owners and their workers the best training. We offer online and in-person webinars to help them grow. 
Define Career Path and Progression Opportunities
It is hard to imagine business growth without the growth and advancement of your team. When creating individualized development plans, it is important to understand the roles and responsibilities your new hires would like to obtain. To better understand their career aspirations, ask them the following questions:
Where do you see yourself going within the organization?
What skills do you feel you need to progress in your career?
How do you see your roles and responsibilities evolving over time?
What support do you need in progressing in your career?
Is there any cross-functional knowledge you would like to gain?
Are there mentors or leaders within our small business that could help you get there?
Based on the answers of your new hires, consider outlining and reviewing the career path and progression opportunities available to them. By doing so, you can better plan for their growth and yours. This in turn encourages better engagement among your employees throughout their time at your small business.
Offer Comprehensive Benefits and Perks
Talented candidates in the job market are likely weighing multiple offers. With in-demand skill sets, they seek out opportunities with competitive benefits that improve their quality of life. While larger companies typically have the ability to offer comprehensive packages and discount programs, small business owners and entrepreneurs might not be able to keep up. That's where Affiliated Workers Association steps in to help.
Provide Competitive Health Insurance
While it may be hard to secure comprehensive and competitive health insurance alone, small business owners and entrepreneurs can leverage group buying power. Through an organization like AWA, you can add additional resources and benefits to sweeten the deal for new hires – keeping them happy and healthy for years to come.
By joining AWA, you have access to supplemental options for small business owners and entrepreneurs looking to provide more benefits to employees.
Explore Additional Perks for Your Team
24-Hour Roadside Assistance – AWA members can feel secure while traveling with Road America's Emergency Roadside Assistance program. 
Travel Assistance – Members, spouses, and dependent children can receive travel assistance services when traveling domestically or internationally 100 or more miles away from home for up to 120 consecutive days.
True Care Auto Buying Services – When shopping for a new or used car, AWA members can receive exclusive pricing, price protection, and a hassle-free buying experience with True Car.
CLC Legal Access – Through the CLC Legal Access program, our members can gain free legal consultations and discounted services for common legal concerns. Members can also get simple will preparation and access to online legal resources at no additional cost.
CLC ID Theft and Fraud Resolution – CLC identify theft and fraud resolution services are available to AWA members. These services guide victims of identity theft through the complex process of restoring security. Members get benefits like ID protection, fraud recovery, document help, lost/stolen purse or wallet services, money advice, and legal advice.
Retail Benefits – With AWA, members can receive small business association discounts at more than 5,000 leading merchants. Those who take part in the program can receive up to 40% cash back and save even more with coupons at popular stores like Wal-Mart, Target, Best Buy, Crate & Barrel, Gap, Banana Republic, Champs Sports, Home Depot, Macy's, and JCPenney. Members can also book travel through featured sites like Travelocity, Orbitz, Hotels.com, Priceline, and Expedia.
Learn more about our small business association consumer discounts.
Keep Your New Hires Happy with AWA Resources
At Affiliated Works Association, we are advocates for the entrepreneurial risk-takers and small business owners who are the backbone of our economy. By providing competitive benefits and resources, as well as small business association discounts, we support you in growing your company.
Implement the strategies listed above and encourage the happiness of your new hires. When you're ready to provide competitive benefits and small business association discounts, call (214) 436-8881 or fill out the form below!