Insurance for Small Business Owners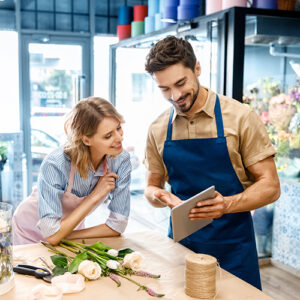 Many people don't realize that more than 99% of all businesses in the United States are small businesses. This is no surprise to AWA. We have researched and compiled a unique variety of resources and insurance solutions for small business owners to ensure our clients can find the coverage they need at prices they can afford.
We offer a wealth of premium benefits and many membership levels so that you can sign up for exactly what you need.
There's No Need to Waste Time Searching for the Best Insurance for Small Business Owners
As a small business owner, you have your hands full. Searching high and low to find the right benefits and insurance for small business owners isn't a task you need to add to your agenda. At AWA, we are proud to offer each member a long list of benefits. You can find all the tools and coverage you need in one convenient place, with constantly updated resources that put you in the driver's seat to find the perfect solutions for your unique needs.
AWA is Happy to Provide Our Members with a Variety of Benefits
Some of the insurance benefit programs you can access through our group-buying power and savings include:
Fixed-Benefit Indemnity Insurance
Accident Insurance
Insured Dental
Vision Insurance
Insured Prescription
Term Life Insurance
These flexible programs offer different coverage levels and premiums to be customized to each member's needs.
Fixed-Benefit Indemnity Insurance Helps Reduce Unexpected Dips in Output and Income
AWA offers members fixed-benefit indemnity benefits to support their continued good health. This type of insurance provides reimbursement for regular doctor visits, diagnostic testing, and hospitalization.
By ensuring you remain in the best health possible, you can reduce missed work – which helps stabilize your income. Good health is important for your own personal benefit and for the benefit of your small business. Fixed-benefit indemnity insurance for small business owners can help you stay in good health and heal more quickly when you do experience an accident or illness.
How Fixed-Indemnity Insurance Benefits Work
No matter the total costs, fixed-indemnity, limited-benefit medical insurance policies pay a specific amount per period or per incident. This benefit's major objective is to help members manage preventative care and ongoing medical expenses.
Fixed-indemnity medical plans offer customers a wider selection of doctors to choose from while managing their health care, similar to PPO medical plans. Members pay predetermined cash amounts for approved medical treatments, so there are no deductibles or copays to worry about.
When you sign up for a plan, you will know what is covered and how much you can be reimbursed for each specific covered benefit. In the event you do need to go to the doctor, you will not have to make a tough choice between affording the healthcare you need and what you can afford.
AWA HealthGuard is Another Type of Fixed-Indemnity Insurance
AWA HealthGuard membership offers significant discounts and exclusive deals on various goods and services for consumers, businesses, and the healthcare industry. It also includes Accident and Sickness Limited Benefit insurance to help with out-of-pocket medical expenses.
As is true of the other programs we offer, you have options. For example, under the AWA HealthGuard benefit, you could choose a plan that reimburses you for anywhere from $250 to $1,000 per night of hospitalization.
Protect Your Small Business from Suffering in the Event You Suffer an Accident by Investing in Accident Insurance
Benefits from accident insurance for small business owners help you prepare for the unexpected and offer families and individuals a cost-effective way to protect themselves against unforeseen expenses resulting from an accident.
Benefits from accident insurance can ease the burden by giving access to perks and resources that can help with unforeseen costs. Some of the main advantages include the following:
Reduce the amount you pay out of pocket for medical expenses directly resulting from an insured accident.
Pay for medical expenses associated with a covered accident with monetary compensation.
While coping with a covered catastrophic illness, safeguard your finances (on specific memberships only).
AWA offers a combination of top features at reasonable rates.
Additional Accident Insurance is Available Through AWA SecureElite
Access to extra Critical Illness and/or Group Accident Only Insurance is available to AWA SecureElite program participants. Having additional insurance may be advantageous in the event of an unanticipated accident or serious sickness.
Members may use the cash benefits for whichever purpose they see fit, including paying for out-of-pocket medical expenses, transportation expenses, childcare, food, and other home care requirements.
Insured Dental Insurance for Small Business Owners
Fully insured dental insurance will pay for all dental examinations, cleanings, and procedures, including orthodontics, endodontics, periodontics, oral surgery, crowns, bridges, and dentures for dependent children.
Dental indemnity insurance plans also cover routine checkups, cleanings, x-rays, and procedures like extractions and fillings.
The benefits are underwritten by United Concordia or Nationwide Guardian Life Insurance Company, both A-rated insurers with an extensive network of service providers.
We Offer Two Main Types of Dental Insurance for AWA Members
Two primary options are available to you when selecting dental coverage from AWA.
With a three-year graduated benefits scale, AWA Dental Plus is a fully insured dental plan covering operations and treatments. The orthodontic benefit is also included with AWA Dental Plus for dependent children under the age of 19. AWA Dental Plus is valuable to members since it saves them money on prescription costs.
AWA also offers Dental 1000 and 1500, which include fixed indemnity dental benefits that pay for services/procedures based on a schedule of benefits called Table of Dental Procedures. Members will know exactly what the plan will pay, procedure by procedure, before they go to the dentist.
You Deserve Affordable Prescription Services – and We Can Help
You have access to insured prescription benefits if you are an AWA member. Most commonly prescribed preferred brand and generic medications are covered with low member copays.
Additionally, you are entitled to a discount on non-preferred brand-name medications and non-copay generics, thanks to your membership. Members receive discounts ranging from 10% to 70% off the drugstore's suggested retail price.
This membership can help small business owners identify cost-effective healthcare choices, given the rising costs of prescription insurance.
The AWA SureScript Rx membership offers approved prescription coverage and health savings to help members manage their medical expenses. All major chains and the majority of independent pharmacies around the country accept SureScript Rx, which offers benefits for a 30-day retail supply or a 90-day mail-order supply for preferred brand names or generics.
Small Business Owners Choose Term Life Insurance to Provide Peace of Mind That Their Families Will Be Taken Care of if the Worst Occurs
As a small business owner, it is important to have a plan in place in case the worst happens. You do not want to leave your family behind to struggle without you. Term life insurance for small business owners is the answer you're looking for.
The primary member's term life insurance payouts are assured, and no medical information is required. You can select from five different levels of coverage: $5,000, $10,000, $12,500, or $15,000.
Some AWA life insurance policies feature an accelerated death benefit of 50% up to $7,500 with a 12-month life expectancy.
Choose between memberships with term life benefits underwritten by Guarantee Trust Life Insurance Company or Amalgamated Life Insurance Company, both A-rated companies with over 40 years of experience.
Term Life Insurance Options for AWA Members
Members of AWA BasicGuard have access to helpful services like group term life insurance benefits that are expressly intended to help during a time of loss.
Membership in AWA HealthGuard provides significant discounts and exclusive deals on various consumer, commercial, and healthcare goods and services, as well as Accident and Sickness Limited Benefit insurance to cover out-of-pocket medical expenses.
You have access to Term Life, and Accidental Death and Dismemberment insurance coverage with the AWA Life Plus ADD membership, which could be useful if you experience an unforeseen accident.
Members of the AWA Life Plus Triad have access to benefits for Term Life, Critical Illness, and Accidental Death and Dismemberment insurance.
Our Partner, Small Business Majority Ensures Your Voice is Heard
The national small business organization Small Business Majority is committed to enabling America's diverse companies to build a strong and just economy. They collaborate with a network of over 85,000 small businesses and 1,500 business and community organizations to advocate for public policy solutions and offer resources to business owners who wish to grow their enterprises fairly.
They can inform the public on significant challenges affecting America's entrepreneurs, emphasizing the smallest businesses and those dealing with structural imbalances, thanks to their deep connections to the small business sector and scientific research.
Run Your Business More Effectively with AWA
AWA understands the challenges of starting and managing a small business. That's why we've gathered industry-leading assets for your use.  Business AdvantEDGE offers discounts on web services, office supplies, marketing, telecom, travel and operations, all through well-known suppliers.  And our relationship with ADP Payroll Processing can save you money on your employee payroll processing.  Look for Business Solutions included with AWA membership levels for more information.