Self-Employed Professional
How Joining an Association Helps You Focus on What You Do Best: Growing Your Business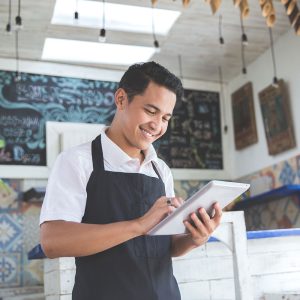 There are nearly ten million self-employed people in the United States. The Affiliated Workers Association (AWA) understands that this large group of workers need and deserve access to business and health products that will help keep them healthy, happy, and safe while they work to build their business.
That's where our small business benefits for self-employed professionals come in. We offer a range of health care programs, health insurance products, and exclusive discounts at affordable membership levels to ensure you get the coverage and support you need. Don't pay for coverage you don't need, and don't skip the coverage you do need. Sign up for the plan that works for you.
Health Care Programs
Your membership to AWA comes with access to a variety of health care programs that can lower your out-of-pocket costs and help ensure access to the care you need.
Health Care Advocacy Programs That Help Health Care Make Sense
For the self-employed professional, it can be challenging to find health insurance policies that cover what you need. Once you've located an insurer, it might seem that the hard part is over but that is often not the case.
Through Alight Patient Advocacy Services and Point Health Healthcare Advocacy Services, you get access to a partner who can walk you through the process of comparing health insurance plans, scheduling appointments, and navigating medical bill payment and resolution. These programs are included in your membership and are designed to help reduce barriers to finding – and using – the right healthcare plan for you.
Talk to a Doctor Any Time You Need To
As a self-employed person, you might have a very flexible schedule or you might find it difficult to play a week in advance to see a doctor. Teledoc is a unique member benefit that gives you access to board-certified, U.S.-based doctors 24 hours a day through phone or video consult.
Get the Peace of Mind That You're Covered in the Event of a Medical Emergency
If you suffer a serious medical issue and need to be transported, AirMed medical transport benefits – which are included in your AWA membership – provide seamless air transport without deductibles, claim forms, or out of pocket costs.
Prescription and Health Care Discounts
AWA membership includes the following discount programs for prescription and health care:
ScriptSafe Prescription Program. One benefit card covers everyone in your household – including pets – with an average savings of 44% on prescription medications.
RX Card. The average savings for generic and brand name drugs is around 30% with this prescription-discount plan.
EyeMed Network. Get discounts on eye exams, glasses, contacts, and more.
MyMedLab. Laboratory testing made affordable and easy.
CIGNA Discount Dental Network. Save up to 50% on dental work.
Beltone Hearing Network. Get a hearing screening plus 15% off hearing instruments.
MDsave. Upfront, simple discount pricing on radiology scans and more.
ChooseHealthy. Enjoy discounts when visiting a chiropractor or alternative medicine practitioners.
Remember that all of the above benefits are included with your AWA membership.
Health Insurance
We Have Pulled Together the Best Supplemental Insurance for Self-Employed Professionals in a One Place
You have enough on your plate – don't add "searching for insurance" to your never-ending agenda. We provide a long list of benefits to every member – including access to pre-vetted and specifically selected supplemental insurance products that are designed with self-employed professionals in mind.
AWA Offers Several Insurance Benefit Programs to Our Members
Thanks to our group-buying power, you can save big while getting excellent coverage. Our insurance programs include the following:
Fixed-Benefit Indemnity Insurance
Accident Insurance
Insured Dental
Vision Insurance
Insured Prescription
Term Life Insurance
Within each category, you'll find several coverage levels and options to ensure you get exactly what you need.
Fixed-Benefit Indemnity Insurance Helps Reduce Unexpected Dips in Output and Income
Through AWA, members have access to fixed-benefit indemnity insurance. This product offers reimbursement for routine medical care, such as regular visits to the doctor and diagnostic testing, as well as for hospitalization and other more significant types of care.
Knowing that you will be reimbursed for covered health procedures and doctor's visits gives you the peace of mind that you can get the care you need without falling into a financial hole. This type of coverage can help stabilize your income and prevent unexpected costs.
Understanding Fixed-Indemnity Coverage
Fixed-indemnity, limited-benefit medical insurance policies pay a certain sum per period or incident, regardless of the total expenditures. The main goal of this benefit is to assist members in budgeting for preventative treatment and continuing medical bills.
Like PPO medical plans, fixed-indemnity plans give clients more options for doctors to choose from when managing their health care. Members do not have to worry about deductibles or copays because they pay predetermined cash amounts for authorized medical treatments.
When you enroll in a plan, you will be aware of the benefits and the maximum amount you can be paid for each one. You won't have to choose between getting the medical treatment you require and what you can afford if you need to visit a doctor.
Get Discounts via AWA AdvancedHealth
AWA AdvancedHealth Membership provides large savings and exclusive offers on a range of products and services for individuals, companies, and the healthcare sector. It also contains Accident and Sickness Limited Benefit insurance to assist with out-of-pocket medical costs.
You have choices, just as with the other programs we provide. For instance, you could select an AWA AdvancedHealth membership level that reimburses you for anything between $250 and $1,000 for every night you spend hospitalized.
Accident Insurance is Supplemental Insurance for Self-Employed Professionals That Provides Cash Payments in the Event of an Accident
Benefits from accident insurance for self-employed professionals provide families and individuals with a cost-effective solution to protect themselves from unforeseen costs associated with an accident. Knowing you have this coverage can help prepare you for the unexpected.
One way that accident insurance benefits can lessen the load is access to advantages and resources that can assist with unforeseen costs. Among the key benefits are the following:
Get reimbursement for out-of-pocket medical expenses that result from a covered accident.
Pay for medical costs with cash payments.
Get coverage for rehabilitation from a catastrophic illness (only on certain membership plans).
You will find several plans with different coverage options available.
AWA SecureElite Offers Additional Accident Insurance
For self-employed professionals who want additional coverage for critical illnesses and/or group accident only, AWA SecureElite is available. This coverage offers predetermined cash benefits that can be used for anything, such as:
Childcare
Food
Out-of-pocket medical costs
Transportation
Home care
Insured parties get a specific cash payment, the amount of which depends on the injury or illness and their level of coverage. That cash payment can be spent at the covered party's discretion, allowing you to determine how funds are best spent to keep you – and your business – moving forward.
Insured Dental Insurance
You have several options for fully insured dental insurance from AWA. This coverage pays for basic dental care, including:
Routine checkups
Dental cleanings
X-rays
Tooth extractions
Cavity fillings
More advanced procedures are covered as well, such as:
Orthodontics
Endodontics
Periodontics
Oral surgery
Crowns
Bridges
Dentures
The benefits are underwritten by United Concordia or Nationwide Guardian Life Insurance Company, both A-rated insurers with an extensive network of service providers.
Choose from Two Main Types of Dental Insurance with AWA
There are two main options you can choose from when you get dental coverage from AWA.
AWA Dental Plus. This is a three-year graduated benefits program, meaning your maximum coverage will increase every year for three years from the start of your plan.
Stop Overpaying for Prescription Drugs
All members have access to the AWA insured prescription benefit. You'll have low member copays on the most commonly prescribed brand-name and generic medications. You can also receive discounts on non-preferred brand-name medications and generics. Expect discounts of up to 70% compared to the suggested retail price.
Choose the AWA SureScript Rx membership, and your benefits will be accepted at every major chain and the vast majority of independent pharmacies in the United States. Enjoy discounts on 30-day retail or 90-day mail-order supply on a wide range of brand-name and generic drugs.
Do You Have a Plan for Your Family if You Are No Longer Able to Work?
As a self-employed professional, it's important to know that you have taken care of those who take care of you in the event the worst occurs. In the event of your death, term life supplemental insurance for self-employed professionals provides cash payments to your beneficiaries.
Coverage options range from $5,000 to $15,000, and no medical information is needed. AWA offers memberships with term life benefits underwritten by Guarantee Trust Life Insurance Company or Amalgamated Life Insurance Company, both A-rated companies with over 40 years of experience.
Understand Your Term Life Insurance Options
AWA BasicGuard. Access group term life insurance benefits designed to help your family in the event of your death.
AWA Life Plus ADD membership. With this level of coverage, you have access to Term Life, and Accidental Death and Dismemberment insurance coverage. This can be essential in the event you suffer an unforeseen accident.
AWA Life Plus Triad. Gain access to Term Life, Critical Illness, and Accidental Death and Dismemberment insurance with this membership level.
Exclusive Discounts
A membership to AWA helps self-employed professionals save on the things they need most for themselves and for their businesses.
Exclusive Discounts for AWA Self-Employed Professionals
The more easily you can take care of day-to-day tasks, the more time you can devote to the things that really matter to you. The less you can spend on the essentials, the more you'll have left to spend on the more exciting things in life.
At AWA, we have created a list of exclusive consumer discounts that bring together maximum convenience and exceptional cost savings. All of the following are included in your membership
24-hour roadside assistance
Travel emergency assistance
TrueCar auto buying program
Legal and financial assistance
ID theft protection
Savings when shopping online
Vitamin discounts
Online wellness programs
Pet care savings
Exclusive Business Discounts for AWA Self-Employed Professionals
We've also created a program with significant business discounts too. Your AWA membership can get you discounts on the following:
HP equipment
Office Depot / Office Max supplies and printing
Sprint wireless services
ADP payroll processing and HR services
Domestic and international shipping through UPS and FedEx
Credit card processing through NTC
Promotional items from Merchology
Which of these discounts is going to making the biggest difference in your business bottom line?
AWA is Here to Provide Targeted Supplemental Insurance for Self-Employed Professionals
Not all supplemental insurance is created equal. At AWA, we focus on self-employed individuals and small business owners to ensure that our products truly meet your needs. These are carefully selected and vetted plans that we've brought together because they add value to our members' lives.